Browsing articles in "News"
By Shandra Martinez
GRAND RAPIDS, MI — Nonprofits are in for a bumpy road, but there are some changes leaders can make to ease the pain ahead.
The nonprofit sector is in the midst of a transformation: facing greater demand for services, as well as increasing costs and a downturn in donations.
Not all non-profits are going survive, warns Gloria Johnson-Cusack.
She heads the Leadership 18, an alliance of CEOs who lead some of the country's largest and most well-respected charities, nonprofits and faith-based organizations.
By Suzanne Perry
Washington
Lawmakers and witnesses at a Senate Finance Committee hearing disagreed today over whether the charitable deduction is sacrosanct­—or fair game for policymakers who are seeking to raise federal revenue or make the tax system more fair.
Sen. Orrin Hatch of Utah—the committee's senior Republican, who led most of the hearing—took the absolutist view. "There has been a charitable deduction in the tax code for nearly a century, and the proposals on the table would undo it," he said. "This is not the area for experimentation by the federal government."
Several Leadership 18 members were recognized as part of the Non Profit Times Power & Influence Top 50 2011.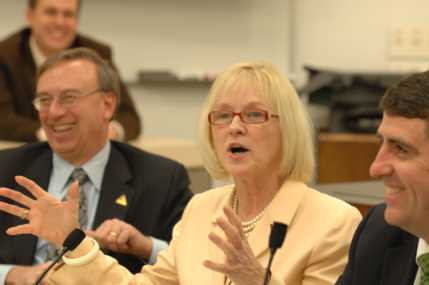 Leadership 18 visited Stanford University in late January as a part of the Pathways to Non-Profit Leadership Initiative to engage students in dialog about the sector's most pressing issues and to partner with the university to fuel the pipeline of public service leadership. Five members including: Jim Gibbons, Peter Goldberg, Dr. David Shern, Reverend Larry Snyder and Cathy Tisdale participated in panel discussions with undergraduate and graduate students, alumni, administration, faculty and members of the community.
Click here to read the full article from the Stanford Business School.
On October 21, 2010, Leadership 18 convened leaders of the military family community at the 2010 Alliance National Conference, hosted in Milwaukee, WI, to lead a panel discussion addressing the key needs of this special population; opportunities for community-based non-profit providers to offer needed services and supports; and specific approaches that are effective in meeting the unique needs of military personnel and their families.
Attendance included: Laura Dempsey, Co-founder & Vice Chair of Blue Star Families; Dr. Paula G. Panzer, Director of Martha K. Selig Educational Institute & Center for Trauma Program Innovation, Jewish Board of Family & Children's Services; Barbara Thompson, Director, Office of Family Policy/Children & Youth, Office of Secretary of Defense, Military Community & Family Policy; Joyce Wessel Raezer, Executive Director, National Military Family Association; and Peg Whalen, Director of Evaluation & Research Services, Alliance for Children and Families.
Please click below to view the panelists' presentations:
2010 Military Family Lifestyle Survey – Laura Dempsey
Military Family Support – Barbara Thompson
Children on the Homefront: The Experience of Children from Military Families – Joyce Wessel Raezer
Working with Veterans -Dr. Paula Panzer
Through the Military Family Initiative, Leadership 18 continues to create opportunities to connect military family leaders with the non-profit community. We're sharing knowledge and collaborating at the highest levels to help more people gain access to quality services.
On May 25, 2010, First Lady Michelle Obama site invited the members of Leadership 18 to the White House to meet with her, Dr. Jill Biden, and Chairman of the Joint Chiefs, Admiral Mike Mullen, to discuss the current state of service delivery to military families and to collaborate to optimize efforts to improve support.
Below is the article published on the White House blog by Trooper Sanders on May 25, 2010.
First Lady Michelle Obama and Dr. Jill Biden met at the White House today with Leadership 18, a coalition of national non-profit chief executive officers, to discuss military family matters. They were joined by Admiral Mike Mullen, Chairman of the Joint Chiefs of Staff, his wife Deborah Mullen, Dr. Cliff Stanley, Undersecretary of Defense for Personnel and Readiness, and other White House officials. The First Lady and Dr. Biden have issued a national call to action to address the unique challenges facing military families, build stronger civilian-military community ties, and engages and highlights the service and sacrifice of military families. The meeting today provided an opportunity to discuss ways to build a lasting national commitment to support and engage military families.
Leadership 18 is a coalition of the some of the country's largest and most well respected human development non-profit CEOs. Altogether, the 22 member organization serves more than 87 million people annually and has more than 5.5 million staff and volunteers. The coalition represents long established charities, faith-based organizations, and nonprofits focusing on social and health issues supporting and promoting the safety, health, well-being, social and economic development of individuals and families.
Leadership 18 attendees included: Peter Goldberg, Alliance for Children and Families; Gail Mc Govern, American Red Cross; Roxanne Spillett, Boys and Girls Club of America; Father Larry Snyder, Catholic Charities USA; Kathy Cloninger, Girl Scouts of the USA; Judy Vredenburgh, Girls Incorporated; Jim Gibbons, Goodwill Industries International; Jill Schumann, Lutheran Services in America; Dr. David Shern, Mental Health America; Stephen Bennett, United Cerebral Palsy; Brian Gallagher, United Way Worldwide; Charles Gould, Volunteers of America; Neil Nicoll, YMCA of the USA; and Lorraine Cole, YWCA USA.
Earlier this month during a speech at a summit hosted by the National Military Family Association, the First Lady challenged every sector of American society to mobilize and take action to support and engage military families here today and for decades to come. During the May 12 speech the First Lady said, "One percent of Americans may be fighting our wars, but we need 100 percent of Americans to support them and their families. This has to be all hands on deck." The hope is that events like this one build a coalition to make this a reality.
Trooper Sanders is Deputy Director of Policy to the First Lady
Several Leadership 18 members were recognized as part of the Non Profit Times Power & Influence Top 50 2010.