Girl Scouts of the USA
Girl scouting builds girls of courage, confidence and character, who make the world a better place.
Now in its 95th year, Girl Scouts of the USA is America's leading public benefit organization dedicated to building girls of courage, confidence and character who make the world a better place. Through the dedication of nearly one million volunteers, Girl Scouting offers its 2.8 million girl members programs in science and technology, business and economic literacy, health and safety, and outdoor and environmental awareness. The activities provide opportunities for fun and friendship, and foster the development of leadership skills and self-esteem in girls.
SYLVIA ACEVEDO, CHIEF EXECUTIVE OFFICER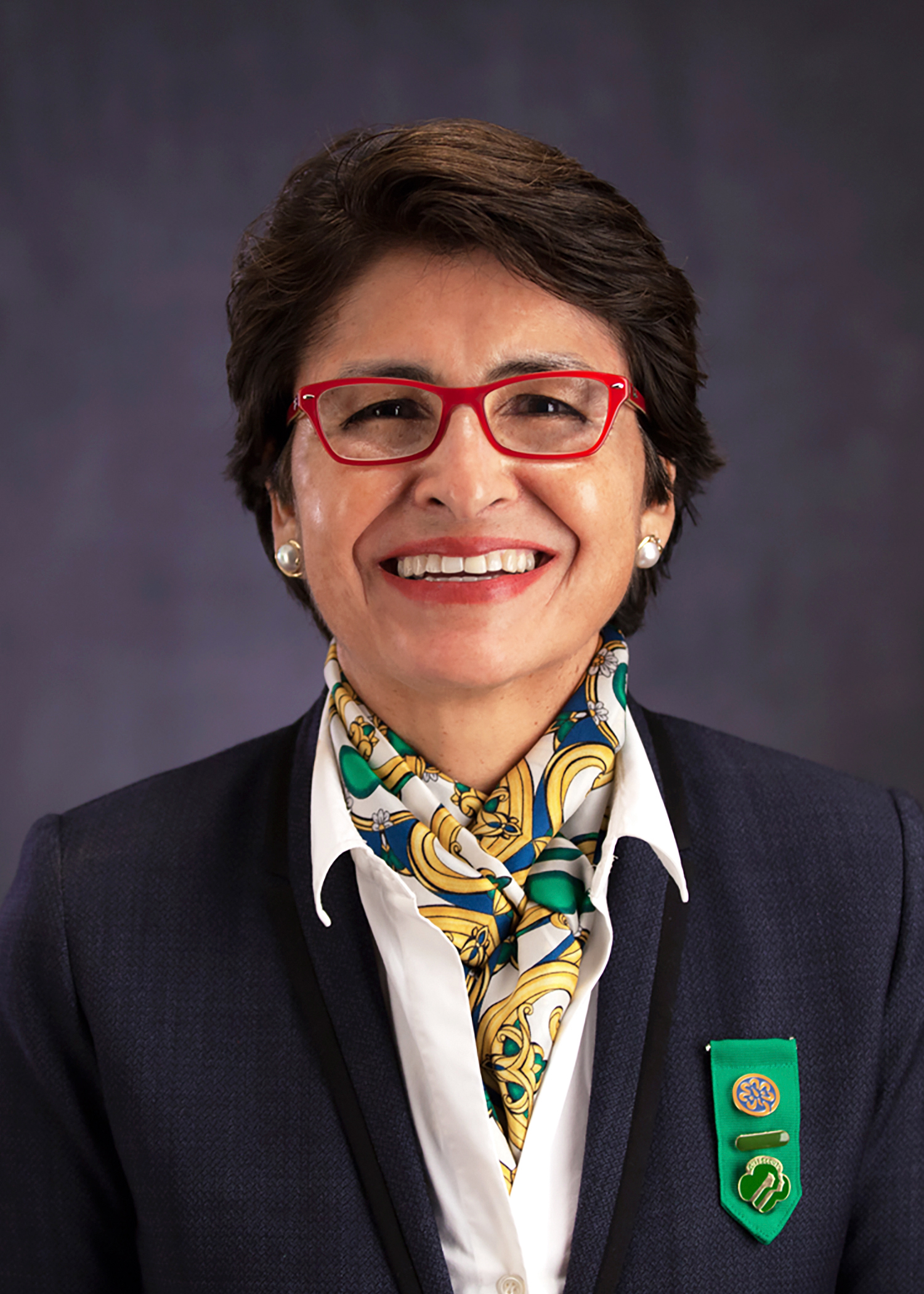 Sylvia Acevedo, CEO of the Girl Scouts of the USA, is a longtime advocate for underserved communities, including girls' and women's causes. On a national platform, she has championed issues such as the Presidential Initiative for Hispanic Educational Excellence, where she serves as a White House Commissioner and as Chair of the Early Childhood Subcommittee.
Sylvia is a talented technology executive who has held positions with some of the world's most respected companies. She has been a GSUSA National Board member since 2009 and an officer and member of its Executive Committee.
She is committed to the mission of building girls of courage, confidence, and character, to make the world a better place. Over the years, she has spoken across the country about the importance of helping girls discover their strengths, passions, and talents. Additionally, she was on the founding board of the Ann Richards School for Young Women Leaders in Austin, TX, the largest all-girls public school in the nation.
Ms. Acevedo understands the U.S. educational system and the challenges parents face in their children's educational journey. She has traveled nationwide, talking with educators about the Houghton Mifflin Harcourt Family Engagement curriculum, which she authored to help narrow academic achievement gaps in America.
Ms. Acevedo is a national advocate for STEM education and speaks often about the importance of the issue. She is currently developing an Aspirational Memoir for Middle School Students that promotes STEM.
In addition, she is a strategic consultant to national organizations that strive to improve outcomes with America's rising generation of youth. Previously, she was the founder, President, and CEO of CommuniCard LLC, a marketing firm known for its innovative approaches to working with changing community demographics. She has held executive and business development positions at REBA Technologies in Austin, TX; Dell Computer Corporation in Round Rock, TX; Autodesk, Inc. of San Rafael, CA; Tandem Ungermann-Bass of Santa Clara, CA; Apple Computer of Cupertino, CA; and IBM in Silicon Valley, CA. Sylvia began her career as a rocket scientist at the Jet Propulsion Laboratories in Pasadena, CA.
Ms. Acevedo earned her Bachelor of Science with honors in Industrial Engineering from New Mexico State University. She was one of the first Hispanic students, male or female, to earn a graduate engineering degree from Stanford University where she earned her Master of Science degree in Industrial Engineering.
Sylvia's involvement with Girl Scouts began long before being named to the National Board. After her family suffered a major tragedy, when her younger sister contracted meningitis and was left developmentally disabled, Sylvia was forced to move and leave behind her school, her neighborhood, and her friends.
As she recalls, "After a few months, a girl from my new school invited me to a Girl Scout meeting. This meeting and this organization would change my life. I discovered that there could be order, and that one could plan and organize one's life. Life need not be left to fate. My troop leaders befriended my mother and helped her learn English and become a U.S. citizen. My mother later led a troop at my developmentally disabled sister's school for six years. Being a Girl Scout gave me tools and experiences not otherwise available at that time to girls of my background. This life-changing experience showed me what leadership looked like and enabled me to pursue leadership as a goal."
Sylvia has been recognized for her work with many communities and her awards and honors include:
• Austin Con Mi Madre Education Award, 2016
• Women of Distinction, Girl Scouts of Central Texas, 2013
• 100 American Women in STEM, U.S. News and World Report, 2012
• OHTLI Award from the federal government of Mexico, a national civil rights award, 2011
• 2010 Austin Community Foundation STAR award
• 2010: Distinguished Alumna, NMSU College of Engineering
• 2009: Austin American Statesman: Austin Hero Award
• 2007: Austin Business Chamber of Commerce: Star of Texas Award, Education
• 2004: Business Woman of the Year, U.S. Hispanic Chamber of Commerce